Levis Prize Recipients
2020 larry levis post-graduate stipend awards
The judges have made their selections for the 2021-22 Levis Stipend recipient and two finalists in their respective genres.
In poetry, guest judge, Ricardo Maldonado selected poet Lauren K. Carlson as the prize recipient, remarking: "This manuscript had me thinking of disruption and intrusion as possible generative acts — can a poem exist without infraction or fracture? The poems make an argument for an unextraordinary breaking, that violence that comes with the laying down of a seed. I found myself as a reader populated by remarkable absence and yielding to the oblivion that takes place around us, towards that oblivion, which feels like the life a poem may make."
Of first finalist, poet
Jen Ryan Onken
, Maldonado writes: "The poet admits to the need for a new form, for the machinations of humor as defense against an age of disease, against a drifting that keeps us entangled. These two series insist on its reading of mythology against the mythology of the state and casts off toward us with the voice of revisited dead, with a kind of journey we know will end with a journey back." Of second finalist, poet
Liza Katz Duncan
, Maldonado writes: " These poems arrive after wreckage — a landscape bloated and imprinting itself on us, which we read with a kind of attentive stretching of the mind, until another disaster comes or leaves its wake elsewhere. We find ourselves with a reading of the poem as a list of given, a sense of what's at had and what preceded us."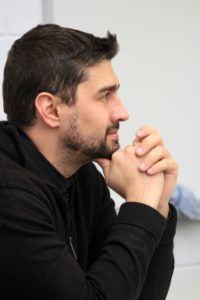 In fiction, guest judge, Melanie Hatter, has selected fiction writer, Matthew Müller as the prize recipient, commenting: " The writer adeptly creates characters who slam into you like a basketball, leaving a bruise you can't stop touching long after the story is over. This submission fully captures the awkward teenage angst and the fumbling banter of youth as they struggle to figure out their places in the world. The story shifts and we experience the profound loss of a friend to suicide for reasons we can only speculate. The protagonist's shock and confusion are tangible and heartbreaking. This story is well crafted and memorable."
Of first fiction finalist, Hadley Moore, Hatter remarks: " This is a fascinating collection of stories connecting the deaths of John F. Kennedy, Malcolm X, Martin Luther King, Jr., and Robert Kennedy, and linking them to the lives of ordinary people: A woman grieving the loss of a love, a teenager trying to protect his sister from their heroin-addicted parents, a daughter afraid to tell her father she has cancer. The stories are poignant, with vivid and compelling characters." And of second finalist, Christy Quinto, Hatter comments: " This novel excerpt holds the promise of an expansive coming-of-age story about finding your voice and your place in the world. The narrator's journey begins in poverty in Peru. He experiences prejudice and violence but finds strength in the encouragement of a beloved teacher. The narrative voice is engaging, reminiscent of a griot telling a sweeping saga of despair and hope."
Congratulations to each of the winners and all the finalists!
————————————————————————————————————————————————————————————————————–
Current and Previous Larry Levis Post-Graduate Stipend Recipients:

YEAR
POETRY
FICTION
2021
Lauren K. Carlson
Matthew

Müller

2020
Kellum Ayres
Corey Campbell
2019
Jen Funk
Andres Reconco
2018
Tariq Luthun
Adrienne Perry
2017
Noah Stetzer
Rose Skelton
2016
Ross White
Ed Porter
2015
Ben Jackson
Adam Jernigan
2014
Jenny Johnson
2013
Laurie Baker
2012
Justin Gardiner
2011
Lisa van Orman Hadley
2010
not awarded
2009
Kimberly McClintock